E's celebrating 25 years of his eponymous label this year and far from scaling things back, Christian Louboutin is raring to go. Case in point: the forthcoming launch of his latest project, a collaboration with Indian haute couture designer – and Bollywood favourite – Sabyasachi Mukherjee. The exclusive collection sees 15 women's styles and four menswear styles created using sarees and ribbons from Mukherjee's atelier archive – cut-offs which have been kept and treasured – making each pair totally original and totally unique.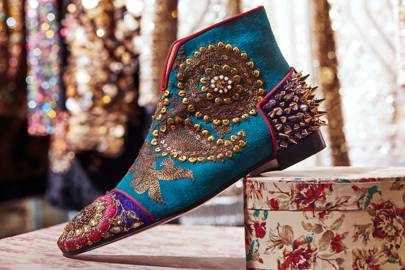 "The way we started to work together was very organic – very Indian, in a way," Louboutin told us. "What happened is that Mukherjee asked me if I could do shoes for his couture fashion shows in India, after we met randomly by accident in his Mumbai store. We started to collaborate, integrating my shoes in his shows and from that it was a natural step for me to do this collection. In his studio, where the embroidery is created, it's basically a type of Ali Baba cave – a profusion of colours, of beads, and of beauty in general. It's unreal, you have a lot of beautiful things which are sort of just put on the side, leftovers of things. I thought, instead of wanting to create something very specific and new, it would be very nice to work around things which are already existing and doing a mosaic of all those little bits and pieces."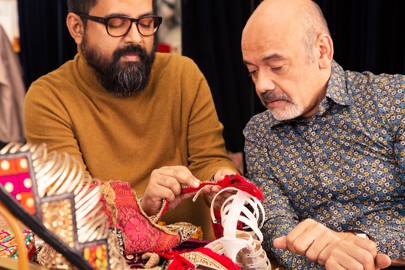 The art of collaboration – an increasing trend among high-profile designers – is one which Louboutin holds dear. Speaking frankly about the importance of "marrying different points of view", the famed footwear designer believes that's it's "nice to collaborate with people who are concerned with other things". The beauty of working with Mukherjee also gave Louboutin the chance to get hands-on with Indian handcraft, which he calls the best in the world. "The luxuriance of Indian couture is unparalleled, things you see in India you see nowhere else," he enthused. "I wanted the world outside of India to love it as I do." So why, then, wait until now?